Wassup Y'all!
Is it me or is Destiny's Child more visible than GW in Florida between hurricanes? Our girls have been all over ABC - Monday Night Football, GMA, 20/20 (tomorrow). I caught them on my show,
106 & Park
on Monday and saw Michelle take a fall when they came sauntering out for their performance of '
Soldier
'.
The fall was funny (cuz old girl wasn't hurt) but what was funnier was Kelly's reaction to it. She watched her fall, kinda had a look that said 'Girl, no your a** didn't just fall' and then went straight into her dance - didn't even

try

to help old girl up. To Michelle's credit she got up and slipped right back into the beat - Where they at? Where they at?

Now after all this time of trying to teach my nephew to be a fine upstanding gentleman with the shorties, here come Beyonce, Kelly and Michelle talking bout "Better be street if you're lookin' at me'. Now the little homey wants to wrap his teeth in gold tin foil, wear a tight wife beater and kick a doo rag with a hat cocked to the side. He and his little troopers are pimping out their BMXs with spinners and hydraulics thinking that's the way to get with fine shorties like Beyonce, Kelly and Michelle. Shame, shame. To their credit, DC does halfway redeem themselves with another cut on their new album called

Cater to U

where they sing about gettin' they man's slippers and what not. Can't hate on that y'all! Anyway, for all you young shorties who plan to adopt that whack dating blueprint, let me drop the following cautionary glossy.




Ladies - that your

street soldier

on the left. Have fun at the family reunion next summer - Yeeeahhhh!

Now, kinda like Pete Best the infamous 'fifth' Beatle, you have to wonder what former group members LaTavia Roberson, LeToya Luckett & Farrah Franklin are thinking about DC's' mega fortune and fame. Here's an early DC glossy to get y'all reoriented.




That's LaTavia at the top left and LeToya at the bottom right in happier days. I can't place those other two hard looking Houston sisters in the glossy - where's blonde Beyonce and cinnamon haired Kelly?

Side Note: I might have to find LeToya and drop my digits...

Word is all three ladies are still in the biz but unlike DC those three are about as visible as John Kerry after the election. Farrah did have time in her bizzy schedule to flaunt some femine wiles in the Mar/Apr '04 issue of King Magazine - The Illest Men's Magazine. To wit, our third and final glossy of the evening (it's worth the wait y'all).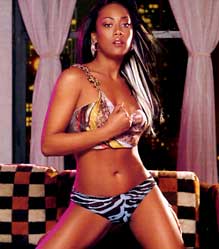 Farrah Franklin



Take that Beyonce! Okay, okay, I'll admit it will take more than that glossy to bump you off your

Crazy In Love

video perch. My carpets are still steaming and the last time I cue'd up that video was about two months ago.... Woooo.

Alright y'all - I'm ghost. I'm a go lose my breath (by watching DC's

Lose My Breath

video...again...for the tenth time....tonight)

Peace@Least,

Tyrone