Wassup, Y'all!
You know it's bad when you
enjoy the previews more than the movie
you came to see, but that's the way it went when I checked out
Stealth
over the weekend. There's a good quote in the trailer to
Four Brothers
by
Terrance Howard
who says:
You go knocking on the devil's door long enough someone's gonna answer
. That pretty much sums up my hard headed habit of going against the critics and checking out movies they clearly hate. It worked out (at least for me) with the last few flicks I checked out but the odds caught up with me this time, y'all and I'm
still patting out the flames
on my gear from this
train wreck
. Had I been paying attention, I would have noticed that if you drop the 'th' from the movie's title you end up with '
Steal
' which is exactly what this movie did with my $7.50...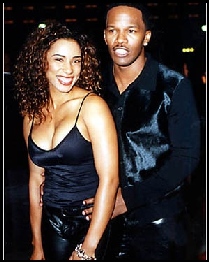 So now we have Oscar winner

Halle Berry

with her Catwoman (though I'm looking forward to seeing old girl as

Foxy Brown

when that movie drops) and Oscar winner

Jamie Foxx

with his Stealth (bringing back some back in the day 'oh yeah's' for

Eddie Murphy

in Tank...). I'm an action movie guy, I'm a sci-fi guy, I'm definitely

a Jessica Biel in a bikini guy

- all that and this movie *still* bit the big one. The only reason I'm even giving the joint

*one* Spinner

is because Jamie had a couple funny parts and Jessica *

did

* bust out in a bikini for a few but combined they were only worth about $0.75. On the other hand I'm sure when

Jamie reads this post tomorrow

(cuz we *know* J-Foxx has the kid's blog on speed dial...) I'm sure his response will be: '

Bump you Tyrone - see I'm able to date women like this while you spend your time up in your little basement writing in your little blog all night, potna

'. My response would be: '

Damn brother that hurt - why don't you make it up to me by dropping

Leila Archieri's

digits since you dropped kicked her to the curb a few minutes back

?' See - when one door closes, another opens, y'all...

Before I jet, I did want to direct your attention to the newest entry in my

Rib Tips and Hot Links

section. Apparently there really is an alternate universe where

black is white and white is black

. I got hipped to a tight blog called

The Dark Stuff

that's pretty funny and drops glossys of sexy shortys with abandon.

Howard

dropped by TM and gave me a shout out so I'm just sharing the love (and laughs). Head on over and drop a comment because you have to peep the glossy in the comment window - it gives a *whole* new meaning to the phrase

Happy Meal

, y'all.

Peace@Least,

Tyrone