Wassup, Y'all!
I finally ducked into a showing of
Hitch
today and 1) I liked that joint and 2)
Eva Mendes
is
off the hook
! Woooo - I thought I'd seen her before in movies like
Out of Time
,
2 Fast 2 Furious
and
All About the Benjamins
but clearly I haven't been paying attention. Well my Attention Deficit Disorder ended today, y'all and not a minute too soon...


Fellas, smack me if I'm talking out of school here but if the Hispanic shortys haven't pulled even with the sisters in the coveted '

Baby Got Back

' category, they're definitely closing the gap at light speed. To wit, a sample glossy of Ms. Mendes.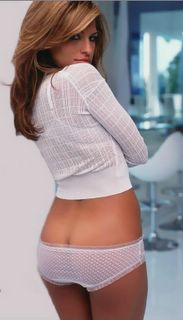 Eva Mendes' Bottom Line


Now I'm not counting but in recent columns I've paid homage to

Selma Hayek

,

J-Lo

,

Vida Guerra

and now

Eva Mendes

and every last one of them is packing without a suitcase. Granted that's terribly shallow of me, y'all, but I'm only here to observe and report - a job I was loving all the way through Hitch. But just to prove the world hasn't totally slipped off its axis, they did show the trailer to

Beauty Shop

and I'm happy to report that the sisters are representin' in that joint...and while I was trailer surfing, I checked out that retro joint

Roll Bounce

that's shaping up to be a feel good joint reliving the roller skating/dance tip of the 70's. Y'all remember reading about that in history class, right? That was when skates looked like whips rollin' on dubs. Shoot, I'm looking forward to gettin' my roll on this summer - just like shorty Velma on the Apprentice ;-)

Peace@Least,

Tyrone