Wassup, Y'all!
When you finally hit the big time and get non-stop access behind the velvet rope, no matter how hot or crowded the restaurant, they've always got a table waiting for you. Well based on the non-stop buzz the movie
Hustle & Flow
is jockin', it seems clear that when this bad boy drops on July 13th all we'll be hearing is "
Mr. Howard, your table is ready
"...


That's Mr. Howard as in

Terrence Dashon Howard

the star of Hustle & Flow, an independent movie fronted by

John Singleton

of

Boyz 'N The Hood

fame (to the tune of $2.8 million of his own chedder) that rocked the

Sundance Film Festival

this year. It's a simple story of a small time pimp (Terrence Howard) that yearns to leave the pimpin' life and become a rapper. Yeah, I had to laugh at the irony of that concept myself, y'all as all you hear rappers rapping about is either being and wanting to be pimps. It seems we've now come full circle.

After the Sundance premier,

Howard's performance garnered major buzz

and the film, directed by 33-year old

Craig Brewer

, snagged the Sundance Festival

Audience Award for dramatic film

, and got bought by Paramount/MTV for

$9 million

- a Sundance record.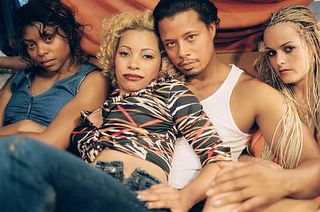 I caught the trailer for it tonight at the late night '

The Longest Yard

' show and if the rest of the movie stays true to the trailer, all the buzz is well deserved, y'all. (

Side Note 1

: The Longest Yard was

off the hook

-

3 Spinners

- spend your money and have a good time. The soundtrack is slammin' too - I plan to scoop that bad boy tomorrow.

Side Note 2

:

Courtney Cox

is sportin' some serious rackage in this movie - where'd all that come from? I know she had a baby, but woooooo!)

H & F's soundtrack is sounding hot too, y'all and the flick features a sprinkle of shorty's I've posted on before such as

Elise Neal

and

Paula Jai Parker

. Anyway, I'm there July 13th cousin, back row, center, as always, chillin' with my popcorn, Milk Duds, Pimp Juice (actually Diet Coke but y'all know that doesn't sound nearly thug enough...) and wide brim hat.

Peace@Least,

Tyrone