Wassup, Y'all!
As in Nevermore will this homey fill out an
NCAA
bracket!! Man, my joint got so blasted on the way to the
Sweet 16
that I would have done better going to
Lincoln Park Zoo
and handing my bracket to a
blind monkey
drinking a forty of
Schlitz Malt Liquor
...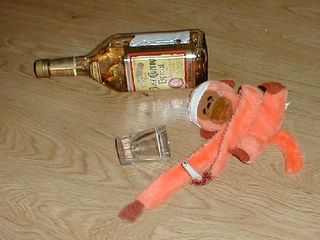 Yeah - This guy would have worked...


Just when a homey needed to display his basketball picking prowess to clinch the deal with a smack talking shorty at the sports bar, he's rendered mortal by brackets full of

kryptonite

! Oh the shame...and just when I was cracking on

Pheebs

for not getting her picks in on time. Karma has a way of balancing things out.



Weather or not

...I'm a frequent reader of the

Chicago Sun Times

and I must say I appreciate their creativity when highlighting the day's weather. They always have a one word summary that perfectly describes the situation. Lately as Spring has struggled to overcome the Winter chill and temperatures have fluctuated wildly, they've propped such descriptions as '

Sassy

', '

Soggy

', '

Annoying

' and a few of my all time favorites, '

It ain't over

' (okay not one word...), '

Ridiculous

' and today's tag '

Heartless

' as we clocked in at around 38 degrees F on the second day of Spring. Gotta love a paper with a great sports section and a sense of humor...



Harajuku Girls

...Caught

Gwen Stefani

(aka Ste-finey) and

Eve

on

GMA

performing '

Rich Girl

'. Man, what a homey wouldn't do to find himself wedged in the middle of all

that

(although Gwen is pretty damn quirky and Eve looks like she can deliver a first class beat down if you step to her incorrectly...)



Gwen and E-v-e
Can a brother get a minute?


Gwenny's background dancers had old Tyrone reminiscing about the good old days in

Japan

. Can't explain why I never fell through Harajuku though...



Harajuku Girls
Didn't I see this crew in The Ring 2?


Oh, that's right... Okay -

Tyrone Tip

: When in

Tokyo

homeys you may want to leave Harajuku to Gwenny and you head over to Akihabara to indulge your electronic gadget fixation. If you love gadgets then Akihabara is your

Valhalla

, y'all.

Peace@Least,

Tyrone