Wassup, Y'all!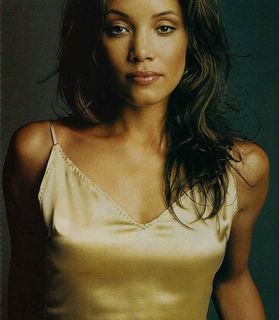 I know what you're thinking as you cast your eyes on this tight glossy of
Michael Michelle
. True - old girl *would* have been my
#1 pick
if she hadn't been on the small screen this season. But as you can plainly see, ineligibility doesn't cancel out the hotness. I'm eagerly anticipating MM's next hook up. I'd prefer her finding another role on TV vs. the movies so I can fiend on a weekly dose but in her case, I'll take it any way I can get it. The way those
Harry Potter
books are flying off the shelves you'd think they slipped a few
Tyrone Malone tight glossys
in between those 600+ pages. Those joints are so thick word is they've replaced the yellow pages as
5-0's preferred tool for 'encouraging' jailhouse confessions
.
"What? You weren't there that night? Hold on, I think I got a copy of my daughter's Harry Potter right here. Oh yeah, here it go...BLA-DOW! Oh, so you *were* there..."
Let me stop playing - I know y'all are anxious to behold the glossys within so let's get to it...
#2 Vanessa L. Williams (Boomtown - Det. Katherine Pierce)

Now y'all know there was *

no

* way I was going to put together a list and not drop my girl

Vanessa Williams

in there did you? That's Vanessa L. not that

tacky Showtime Soul Food Vanessa Williams

who wouldn't give up the name in the

Screen Actor's Guild directory

(Phony Vanessa - if you're reading this girl - I'm just playing...). Actually it was kinda funny that those two were both associated with

Soul Food

(Vanessa L. played Teri in the film version and Phony Vanessa took over the role of

Maxine

from

Vivica Fox

who put her foot in the film role). Anyway, although foine Vanessa didn't last long in

Boomtown

, she lasted long enough to have me tuning in regularly and yelling at the TV to cut away from all the crime scene ruckus and get back to Vanessa's issues. Good news is she's headed back to the small screen with a

UPN

pilot called

South Beach

slated for next year (mid season replacement). Man, I'm still scratching my head about that bonehead

Rick Fox

. He had to know his basketball days were fading and that pretty soon the

Boom-Pow groupies

would be moving on to the young, up-and-comers like

King James

and

D-Wade

. Dummy! Dude, you had old girl locked! Oh well - guess that's all me now as soon as 'Nessa decides to

return my calls

...


#1 Jasmine Guy (Dead Like Me - Roxy Harvey / A Different World - Whitley Gilbert)

Yes, yes, y'all. Foine

Jasmine Guy

tops my list. Regardless of whatever else she plays in she'll always be

Whitley

to me (a role that helped Jasmine pull in six consecutive

NAACP Image Awards

...). Jasmine has a lot of parallels to other shortys on the list - saditty like

Kim Fields

and

Karyn Parsons

and pretty much blew

Lisa Bonet

off of

A Different World

. As time went on that show gradually became hers and she had homeboys tuning in by the dozens. I *

still

* hate that I missed her turn as

Velma Kelly

in the touring production of '

Chicago

'. My boy

DLT

told me she was

off the meter

and if you've ever seen the play, you know to play that role you have to

bring it

- singing, dancing and acting. That's why old Tyrone likes checking out live theater y'all. You can't fake talent on stage. Unlike all these pre/post processed Brickney-type singers - sound great in the studio - but put them live on stage and it sounds like a dog having sex with a cat (it's not pleasant, y'all). Anyway, when your pedigree comes from the

Alvin Ailey American Dance Center

, you have

no problem

droppin' it like it's hot and Jasmine's proof positive of that. I haven't seen any new TV projects on her horizon yet, but she's recently gone from triple to quadruple threat by writing

Afeni Shakur - Evolution of a Revolutionary

- a biographical memoir of

Tupac's

moms *and* she debuts at the top of old Tyrone's Top Ten TV Shortys I'm Missing List! Daaaang, ease up Jasmine!

So there y'all go. I know some of your picks didn't make it but that's why it's *

my

* top ten list! Seven days in the making but still tasty and less filling. Okay, plan to get your drink on in the next post as I graduate from

Absinthe

to ... (here's a hint - it's also mean and green!)

Peace@Least,

Tyrone